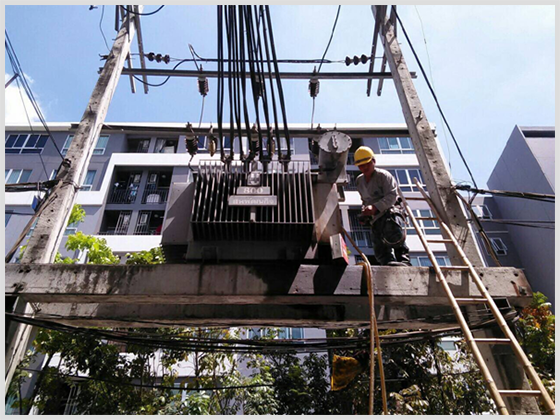 Repair, Rental and Service & Maintenance
ThaiPatanakit Transformer has a full service repair and maintenance department with 24/7 emergency service as well as teams throughout Thailand and the neighboring ASEAN countries available for most any project needs at short notice. We are trusted by many major companies in Thailand to repair their transformers of all sizes and brands, both import and domestic, such as 10000 kVA made in Korea transformer for Khon-Kaen Sugar Refinery and etc.
Rental
Due to our vast inventory, ThaiPatanakit is able to provide transformers on a rental basis for temporary work sites and events. Please call our sales department for a quote and information.
After Sale Service & Maintenance
When ThaiPatanakit sells you a transformer the relationship has just begun. Annual Maintenance Check on site free at NO CHARGE plus 24/7 Priority Access to our Service and Maintenance Team insure no production down time. We have quality and dependable transformers for you to use while your transformer is being repaired to make sure that your business can keep running.
Warranties
Please contact ThaiPatanakit Transformer for information on both our Thai and International Service and Product Warranties as well as our 10 year limited warranty.
Sell Us Your Surplus Transformers!
We're Your 1st Choice to liquidate your surplus and obsolete transformers.
If you are thinking about changing capacity of your transformer we guarantee absolutely the best price for your surplus transformer.